Clan McLaughlin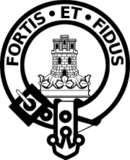 ---
Go to: Clan MacLachlan Society Website www.clanlachlan.ca/ for links, pictures, name variations and spellings, clan relationships, and for the complete history, a part of which is duplicated here: "Clan MacLachlan is one of the oldest of all Scottish Clans. According to Irish manuscripts, the Clan is descended from the same line as the O'Neills, High Kings of Ireland. The name MacLachlan means "son of Lachlan", and Lachlan itself is from the older Gaelic name Lachlann which literally means "land of lochs". It was a common Christian name in the family tree of the High Kings.
As early as 1230 Gilchrist MacLachlan witnessed a land charter and in 1292 Gilleskel MacLachlan received a charter for his land in Argyll. A MacLachlan served in the first parliament of Robert The Bruce in Saint Andrews. The MacLachlans were loyal supporters to the Stewarts and fought in all the royalist campaigns. In the 1745 uprising with Prince Charles Edward Stewart, the Chief of the Clan served the Prince and was lost at Culloden while commanding a regiment of 300 men. The loss of the battle and war resulted in the destruction of the castle by the British in 1746.

The present Castle Lachlan was built in 1790 and is the home of Euan John Rome Maclachlan of Maclachlan, the 25th Chief. It is located in Strathlachlan, near Strachur, on the banks of Loch Fyne in Argyll."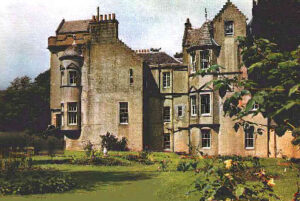 The seat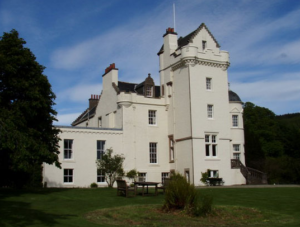 of the Clan MacLachlan on the peaceful shores of Loch Fyne. Castle Lachlan is in a fairytale setting in Argyll. Dating from the 18th century, the current castle has been extended in the Scots Baronial style.  It is a  private estate which extends to 1500 acres of a working sheep farm, woodlands and coastline.

---
The History of Alexander V. Laughlin
1774 Immigration to US

Most of the knowledge on the history of Alexander Laughlin and his descendants was obtained from researching the Clan MacLachlan of Scotland, McLachlan being one of the present-day spellings of the original name, Canadian census reports, the White Family Bible, and legal documents ("Petitions for Crown Lands") currently in the possession of the Public Archives, Ottawa, Ontario.
Alexander Laughlin was born in 1756 in the province of Stirlingshire, Scotland. It is said that his parents were weavers. (NOTE: Other Scotland ancestors are still being researched). Alexander was likely a descendant of Maclauchlan of Auchentroig, in the shire of Stirling, this branch of the clan dating back to 1394 (as noted in "An account of the surname Maclauchlan" from "De Rebus Albanicis", Glasgow, 1723). In 1774 Alexander left Scotland and came to America, arriving at New York harbor. He traveled up the Hudson River by bateau (flat bottomed boat) toward Albany. He settled for a short time in Ballston, N.Y. where he remained until 1777 when turbulence from the Revolutionary War forced him to enlist in the Royal Americans, a corps then being formed under the authority of General Sir William Howe by Captain Daniel McAlpin of the 60th Regiment in joint action with Lieutenant Colonel William Edmonston of the 48th Regiment. Five hundred and seventy-two (572) men (Tories, loyalists to the King of Britain) quickly enrolled in this corps which was pulled together under the command of Major Daniel McAlpin. This corps was known as Major McAlpin's corps of Royal Americans, and was later called the Loyal Rangers.  In 1777, a detachment of Major McAlpin's corps under the command of Captain William Fraser, with Lieutenant Thomas Fraser, was ordered to proceed to Ontario from Albany. After ten days of marching, they were captured by a group of American troops and were taken to Albany. There, Alexander Laughlin was incarcerated. During the next 3 years, he was kept a prisoner in various military prisons in New York and the New England States and suffered many hardships. The following petitions from the Canadian archives illustrate these facts:
UNITED EMPIRE LOYALIST LAND PETITION
Reference: LDS History Center Film # 1,205,489 – Upper Canada Land Petitions 1798-1819 and/or Public Archives of Canada Microfilm Reel # C2125 – Upper Canada Land Petitions "L", Bundle 4 1796 – 1799 (RG 1, L3, Vol. 285), Petition 26, Item Number 51:
I hereby certify that the berror Alexander Laughlin has been taken prisoner with us when endeavored to com to canada in the spring 1777 and carried prisoner to Albany and from there thence to new England where he suffored mutch for his loyalty and atatchment to the british government given under our hand at Edwardsbury this 9th day of February 1798.(Signed) Wm Fraser Capt. Thas Fraser, Late Loyal Rangers
This is Land Petition 1798, L. No. 51, Public Archives of Canada. Item Number 51A.
This is to Certify all Gentelmen Whom It may concern that Alexander Laughlin Was a good faithfull Subject To King George during the Late Rebelion and Sufered Domesstick Vilence by the hands of the Usserperss Was taking Prissoner going to the British and Was keep three years in Close Confinement Which Was a Very hard fate and Now means to macke his residence under Protection of King George. Given under my hand this twenty fourth Day of may and in the year of our Lord 1798 and I the twenty Eighth year of the Reign of our Loving Lord George the third By the Grace of God King of Great Britten France and Ireland Defender of the Faith (Signed) James Dearin, Lodewick Miller, John Dearin, John S. Penkney.
This is Land Petition L. No. 51A, Public Archives of Canada -Item Number 51B -To his Hounor Peter Russell Esqr, President Administering the Government of Upper Canada & & & , In Council:
"The memorial of Alexander Laughlin humbly showeth that whereas in the year one thousand seven hundred and seventy-four he left Sterlingshire in Scotland and came to America. That he settled in Ballstown, State of New York and that in the year one thousand seven hundred and seventy-seven having voluntarily joined a party of Loyalists was enlisted under Captain McAlpin and was put under the direction of Captain Wm. Fraser and Lieutenant Thomas Fraser who had the command of said party on their way to Canada, that after ten days' march the party was surprised by the rebels, taken prisoners and conducted to Albany. That your Memorialist remained in close confinement three years; that having made sundry attempts to join the British standard without success did remain in the country until the close of the war. That having a young family it was entrain difficult for him to remove into Canada sooner than the year one thousand seven hundred and eighty-eight, that since he hath made application and did draw one hundred acres of the first draft lands, on which he is settled in the township of Ernest, Ontario, that his family at present consists of six souls, himself, three sons and two daughters; his wife, son and daughter being lately deceased. That your Memorialist hath only one hundred acres of land and humbly prays that he may be allowed to residue of his right of land; and your Memorialist as in duty bound will ever pray." Item Number 51C, Alex Laughlin 3- Petition No. 51, July 12 98 Know that the Petr has be put on the UE List for the Midland District.
Approved " PR" Entered on the UE List – Reference: Public Archives of Canada Microfilm Reel # L2125, Upper Canada Land Petitions "L", Bundle 4, 1796-99 (RG 1, L3, Vol. 285)
Alexander Laughlin humbly prays to have his name put on the UE list — he being intitled to that benifit as will appear by Vouchers herunto annexed.
Kingston 10th May 1798 (Signed) Croberson Atty Land Petitioner. The following document describes McAlpin's Corps and shows that anyone who enlisted in it lost everything they had, as their property was confiscated. [ Reference: Public Archives of Canada. B. Series, Vol. 214, p. 84]
"To His Excellency Frederick Haldimand, Esq. Governor General of Canada and Territories thereon depending General and Commander in Chief of all His Majesty's Forces therein, etc." "The Memorial of Captain Daniel McAlpin of the 60th Regiment humbly sheweth Your Excellency's Memorialist having in concert with Lieutenant Colonel William Edmonston of the 48th Regiment proposed a plan for raising a battalion of his Majesty's loyal subjects in Albany and in the neighboring counties. Such plan was laid before General Sir William Howe and His Excellency was pleased to approve of the same and he gave this instructions to engage the men, taking care not to appoint more than one captain, two subalterns, three sergeants, three corporals, and one drummer to every 50 men.
In consequence of General Howe's instructions your Excellency's Memorialist employed proper people at a considerable expense to engage volunteers for this service and he was so successful that in six months time five hundred and seventy-two men were engaged, two hundred of which number joined General Burgoyne's army as will appear by a certificate signed by the Deputy Commissary of Musters. Your Excellency's Memorialist did appoint Mr. Peter Drummond to be captain of a company and several other good men to be subalterns. Captain Drummond had the misfortune to be taken prisoner in the field of battle on the 19th September 1777 when he was exerting himself in the execution of his duty and he has since suffered much, being a long time confined in irons in a dungeon. As your Excellency'' Memorialist did not appoint but one captain, five lieutenants, five ensigns, and one quarter master to the above number of men he humbly hopes that your Excellency will be good enough to support them in those different stations as they have sacrificed all they had for their loyalty."
Quebec, 18 November, 1778 (Signed) Daniel McAlpin, Captain 60th Regiment. [Reference: "The United Empire Loyalists" by William Stewart Wallace]
"In 1776 Sir John Johnson fled to Canada with 300 Scottish dependants and the Mohawks under chief Joseph Brant. He received a Colonel's commission to raise two loyalist battalions which were known as the King's Royal Regiment, 1000 men. They were called the Royal Greens. "An offshoot of the first battalion of the Royal Greens was known as Jessup's Corps. This corps was with General Burgoyne's army at the Battle of Saratoga." "The township of Ernestown was given to Sir John Johnson with his company of U.E. Loyalists. Apparently land was selected by lot."  "Colonel Rogers was given the township of Fredericksburg." "Major Van Alstyne was given the township of Adelphustown." "Colonel McDonnel was given the township of Marysborough(burg)."
In 1775, New York served as the capitol of the new United States. On February 6, 1778, New York approved the Articles of Confederation and ratified the United States Constitution on July 26, 1788 during which time Alexander was still a prisoner of war. In 1780 he was released. Upon returning to his home in lower New York, he found that his land and property had been confiscated. While trying to begin again, he met Mary Snyder (also written as Schneider and Snider), and on December 24, 1782 they were married. Mary was born on April 17, 1760 in New York. They stayed in the New York City area for a few years. Their first child, John, was born on September 16, 1783 in Poughkeepsie, Duchess County, NY. Their second son, James, was born on March 5, 1785, and records indicate he was christened in New Hackensack, Duchess County, NY. Their third child, Elizabeth, was born October 10, 1788 in Little White Creek, NY. Their third son, name unknown, born abt. 1784, died prior to 1788. During this time, New York had become the capital of the new United States. By the fall of 1788, Alexander had begun to pack up his family, and along with other Loyalists (eventually some 30,000) emigrated Northward out of New York State. They succeeded in traversing through the wilderness of Northern New York by the Onodaga trail in the depths of winter, until reaching the shores of Lake Ontario. In the vicinity of Cape St. Vincent they crossed the ice on sledges to the Canadian city of Kingston. They later settled about twenty miles from Kingston in Ernestown township, Lennox and Addington County, Ontario. Since he had petitioned for and was granted land by the crown, he selected the West half of Lot 17, second concession of Ernestown consisting of 100 acres. The Certificate of Location of this land is dated October 18th, 1789. A few years later, Alexander donated a portion of this land for a Lutheran church and cemetery. (Later named Union Lutheran Church Cemetery).
On April 22, 1806, Alexander left Lot 17 and purchased Lot 28, third concession of Ernestown, consisting of 200 acres, from Elizabeth O'Neil. She received this land from the British Crown by deed dated May 17, 1802 and on November 16, 1803, a deed for this land was granted by the British Crown to Alexander Laughlin. This land was passed on to later generations. According to "The Loyalists of Ontario" (Reid, p. 178), Mary, John and James all of Ernestown, claimed land on February 27, 1818. Alexander Laughlin (grandson of the pioneer), eldest son of John Laughlin, was given the old homestead and he later sold or traded it to Harriet R. Booth by deed dated October 24, 1836.
On September 29, 1818, Alexander deeded Lot 28, third concession of Ernestown to his son James Laughlin. James Laughlin by will dated November 2, 1838 devised the homestead to his two sons, John and Henry. John Laughlin by deed dated February 25, 1851 conveyed his half interest in the homestead to his brother Henry Laughlin. Henry Laughlin must have willed the homestead to his wife, Margaret Hymers Laughlin for on April 7, 1892, she deeded the homestead to her son Alexander Hymers Laughlin. Alexander Hymers Laughlin in turn deeded the homestead to his son Harry F. Laughlin who occupied the farm in 1939. Note: Jonas Amey received a deed for the East half of Lot 17, in the second concession of Ernestown from the British Crown on November 6, 1803. Descendants of this family married into the Laughlin family. Christopher Lake, Sr. Also received a grant of land in Ernestown township and his son, John Lake, married a daughter of Alexander Laughlin.
The following information is taken from "New York in the Revolution as Colony and State,":
(The Comptrollers Office, New York State). On page 240 Alexander Laughlin is listed as a British prisoner of war. Also listed is John McLachlin. The book states that prisoners were at times sent from New York State to Connecticut, (Hartford, Litchfield and Sharon), to Massachusetts, (Springfield and Worcester), to New Hampshire and Pennsylvania. On Page 256, under "Estates Confiscated" are the names Captain McAlpin and Daniel McAlpin.

---
Descendants of Alexander Laughlin/McLaughlin
1.JOHN MCLAUGHLIN, b. September 16, 1783, Poughkeepsie, Dutchess County, New York; d. September 09, 1867, Ingle/McLaughlin Cemetery aka York Burying Ground, Sheffield Twp., Ontario, Canada.
2.JAMES LAUGHLEN, b. March 05, 1785, New Hackensack, Dutchess County, New York. He died June 10, 1850, buried at Union Lutheran Cemetery, Ernestown, Ontario.
3. ELIZABETH LAUGHLIN, b. February 09, 1787, New York. Died prior to 1798.
4. MARY LAUGHLIN, b. October 10, 1788. Baptized March 15, 1789. She and her husband John Lake lived in Battersea, Ontario all of their adult lives. They are thought to be buried in unmarked graves at Sand Hill Cemetery near Battersea.
5.HANNAH LAUGHLIN, b. November 19, 1790, Ernestown Twp., Ontario; d. November 25, 1822, Burial Place Unknown.
6.ISAAC JACOB MCLAUGHLIN, b. 6 Nov 1792, Ernestown Township, Upper Canada; d.  Abt. 1874, Yarker, Lennox, Ontario, Canada.

Sandi Sullivan's Site has sons Colin, Ronald,  and Duncan listed as probable descendants of Alexander, but no other information on them.      http://www.sandisullivan.com/getperson.php?personID=I14&tree=Tree
7.COLIN LAUGHLIN  b. Bef. 1796 in Ernestown. Date of Land Grant 4 Sept 1834 Listed as son of U. E. L., Alexander Laughlin, Ernestown.
8.RONALD LAUGHLIN b. Bef. 1796 in Ernestown.  Date of Land Grant 4 Sept 1834 Listed as son of U. E. L., Alexander Laughlin, Ernestown.
9.DUNCAN LAUGHLIN b. Bef. 1796 in Ernestown. Date of Land Grant 4 Sept 1834 Listed as son of U. E. L., Alexander Laughlin, Ernestown.

---
Read the History of Lennox and Addington: https://www.forgottenbooks.com/en/download/HistoryoftheCountyofLennoxandAddington_10103747.pdf
Go to: https://jgenea.com/clans-map/. (MacLachlan area is West of Glasgow and a bit North of the Firth of Clyde).
Go to: http://www.genuki.org.uk/big/sct/sct_cmap.html to see a map of the Counties of Scotland.
Go to:  http://home.epix.net/~ramcl/ancient.html go DEEP into McLachlan history originating in Ireland in 379 AD and see an excellent pedigree chart of the main lines and descendants. The main website is heavy on the IRISH McLaughlins, but the SCOTTISH McLaughlins are also well represented.
Go to: https://www.scotsconnection.com for more Tartan and Scottish information.